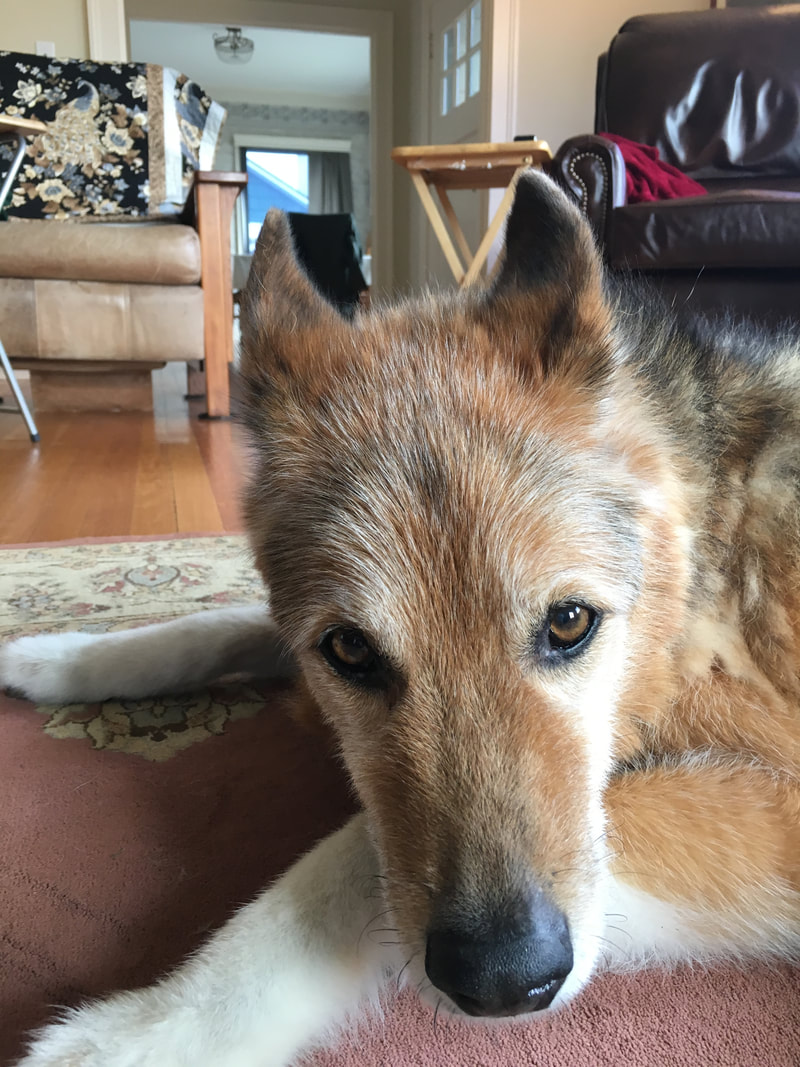 ​I had to put my dog to sleep earlier this year. He was 17, so I'd had plenty of time to think about it. Not that it makes things much easier. I've tried and failed to write something about it, maybe 4-5 times, but every time I do I feel like I fail to capture how I feel about it. I'm an overthinker, so it's hard for me to stop turning over stones and just write in the moment. I also seem to dive down existential wormholes every time I have a legitimate human feeling because it's easier than admitting an emotion. You can bet I'll edit the shit out of this for weeks after I've posted it, but here we goooooooo…

I've had dogs my whole life. I'm a dog person. [I don't say that often because when you say that you're a dog person, people assume you're also a people person. I'm not a people person at all, so I guess I'm more like a cat person, but with dogs.]

I remember the first dog I ever technically had. It was a black lab that my parents gave away when I was about 3 or 4. They gave it away because it was too excitable and not good with kids. My only memory of this dog, whose name I don't even remember, is not positive. I remember laying down in what I assume was my bedroom, with sunlight coming through the window, so I must have been down for a nap. A large, dark figure lunged against the window and terrified me. That moment haunted me as a kid until I saw pictures of the dog and gradually pieced together that the scary figure lunging against my window was just the dog. It's weird that I still remember that, but I guess fear makes a memory stick in your brain longer. They should make math scarier. Ok, I'm off topic already.

Anyways, my experience to dogs was off to a bad start. Or a non-start, as I guess I never pieced together that the dog was responsible for the incident. Next up was this giant fluffy white Great Pyrenees-looking mutt that my dad found out in the woods one day. My dad was a timber spotter at the time, and his job required him to wander around the woods and assess property values for his company. Legend maintains that he was freaky good at it by the way, something I have a huge amount of pride for. I'm not sure why, it just seems really awesome that my dad had a freak ability to assess swathes of timber.

So my dad found this giant fluffy mutt and it hopped in the back of his old blue pickup and that was their whole deal. Immediate best buds. My dad named him "Skipper," and while he was a sweet dog, he really belonged to my dad and my dad alone. I think it was important for me to see that bond though, because it cemented the true value of a dog's companionship in my mind. When I was in kindergarten my dad had to put Skipper down. That might have been the first time I saw my dad handle grief. He carried Skipper up to the barn and dug a hole, and made a wooden cross by himself. Some real man shit, like out of a country song.

Around the same time, my brother got a great pound dog named Lucy. A little black and white spotted mutt that loved us kids and was a great farm dog. Honestly, I will never get a dog from anywhere but a pound. Lucy was top shelf dog material. She was so well behaved and loyal that she once got hit by a car because she crossed the street and we called her name and she came running back across the road without even taking the time to check for cars. She survived that, because that's what pound dogs do. Survive.

My parents let me get a dog, and I picked up an ornery little puppy that I named "Teka." I have no idea where I got the name "Teka" from but it was the perfect name for this dog. I mean, look at her: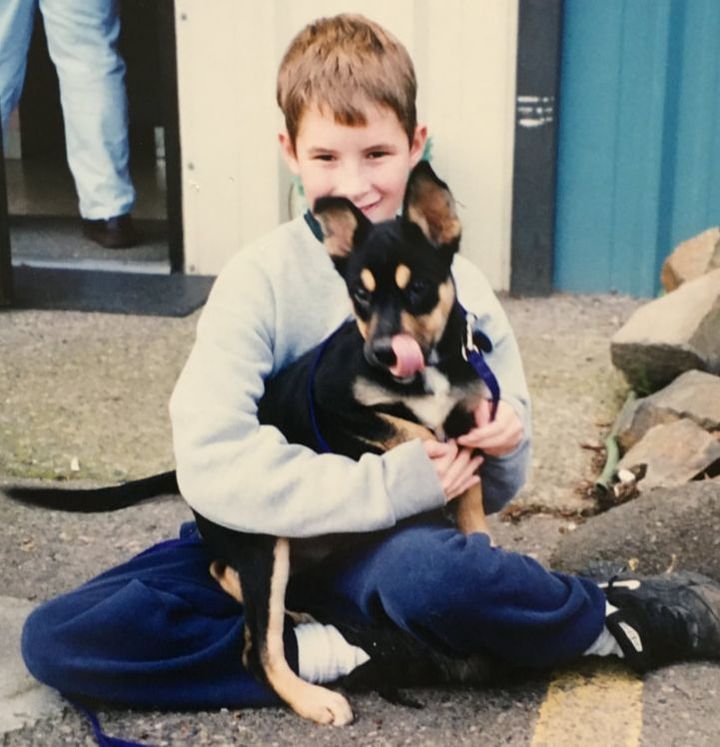 We moved off the farm a year or two after I had gotten Teka. I remember sitting in the back of my mom's Camry as we left for the last time. My mom stopped at her best friend's house to say goodbye and I stayed in the backseat, hugging Teka and telling her not to be worried about the move because I wouldn't let anything happen to her. [I WAS A SENSITIVE LITTLE KID AND THAT'S OK.] That was about as much emotion as I remember letting myself have about the move. Obviously, looking back, I don't think Teka ever really needed me. She was a self-sufficient little farm dog and country dogs can survive. Also she was a pound dog, so that's… a lot of survival in a furry little package.

We moved to a rental house in Aberdeen, WA. Both my parents were working so we had to keep the dogs in a kennel in the driveway. Going from a farm to a kennel was not going to happen. Teka figured out that she could knock the door off of the kennel if she hit it at an angle and that was over. The dogs got out and Teka ran over to a neighbor's yard. I think Lucy probably stayed put, she was older and knew better. Teka was a wild force to be reckoned with. Our neighbor had a pet bunny that they kept in a small, fenced in area in their yard. Now, I'd seen Teka with rabbits that she'd killed on the farm, but did she know the difference between a wild rabbit and a neighbor's pet bunny? Yes. I think she did.

But she didn't care. According to our neighbor, she hopped over the fence, quickly ripped the bunny apart, rolled in the viscera, and was tossing bits of it in the air by the time that animal control got there.

They demanded that we give the dog away, and so we sent Teka to live back on a farm. [A REAL FARM ASSHOLES, none of that "lie to the kid and have the dog put down" shit. I saw photos.] This was tough for me because I'd made a promise to Teka that I wouldn't let anything happen to her. I wept as I said goodbye, but to be honest it was hard to pretend that she cared.

We still had Lucy, and a year later my parents agreed to let me adopt another dog. I went to the local PAWS animal shelter with my mom's friend, Trish. The only person working there was a little person named Sooki. [Suki? Sookie? I never figured it out.] I remember this specifically because Sooki was a bit infamous amongst the neighborhood kids I would later meet. She apparently would bully them quite a bit. I have an ex-girlfriend with a story about how Sooki made her eat a slug when she was 6. Another friend had a story about how he would ride by Sooki's house on his big wheel when he was little and yell, "Sooki, Sooki, Sooki!" until one day he crashed and she caught up to him and kicked the shit out of him. Sooki was much older than all of us so it's actually kind of fucked up that she was doing these things, but this was in the 90's and I think that because she was a little person everyone just treated her like a child in terms of fighting ability. [What's the matter son? Can't hold your own against a 26 year old dwarf?]

Sooki told us they'd just got a new little puppy. He'd been thrown out of a truck and was too young to be away from his mother. I HAD to have him. He was the cutest little bastard you've ever seen. Luckily, Trish was a pushover and I took him home that night.
​
I didn't name him for a week because I couldn't find a name that fit. My dad got annoyed and announced, "The dog's name is Odie."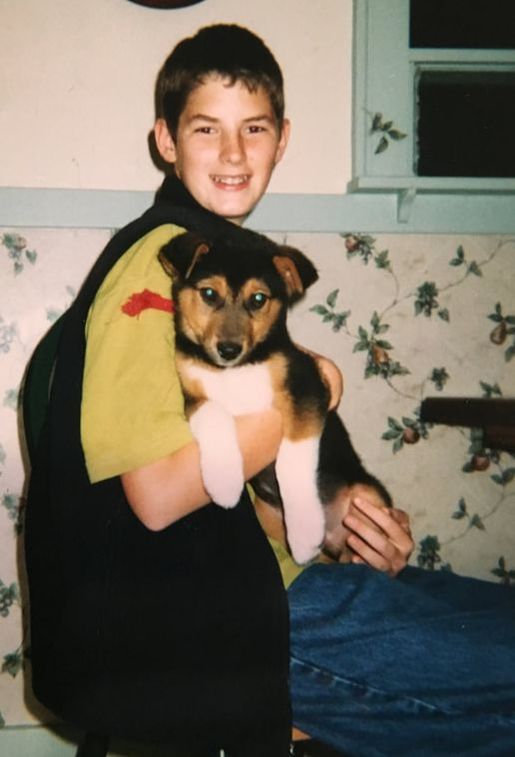 That dog was my favorite thing IN THE WORLD. For the next 17 years, people would joke that I liked my dog more than anybody. And they were right. We had our own LANGUAGE. He was a tough dog to own, very independent and loved to cause trouble. He overdosed on slug bait [Very rock-n-roll], ate a bunch of rancid crab bait [He loved bait, apparently.] that our neighbor threw in the bushes and then barfed it all up in the house [I swear he did this on purpose. Worst smell I've ever experienced. It was as if someone left a seal carcass in a sauna coated in bile overnight], blew out his ACL [This is how I learned dogs have knees], etc. He was well behaved but not friendly towards anyone but me, and I LOVED THAT. I trained him, and he would obey commands, but about once a day he would shoot me a look that said, "I know what you want me to do right now, but I gotta do me." And for the next hour or so, he would go AWOL.

I spent my formative years with that dog. I think his attachment to me really helped to get me through a lot of bullshit. He played favorites, and I was his favorite, and although it seems petty, that felt pretty good at a time when my world was flush with hormones and constantly turning upside down. I was desperately trying to fit in and make friends at a new school, but making friends and fitting in weren't exactly in my wheelhouse. I've always had trouble connecting with people on a personal level, but seeing my Dad's relationship with his dog Skipper allowed me to make a similar emotional connection with Odie at a time when vulnerability felt like certain death. I'm not sure what I would've done without that outlet. [Maybe gotten a girlfriend?] It's hard to say.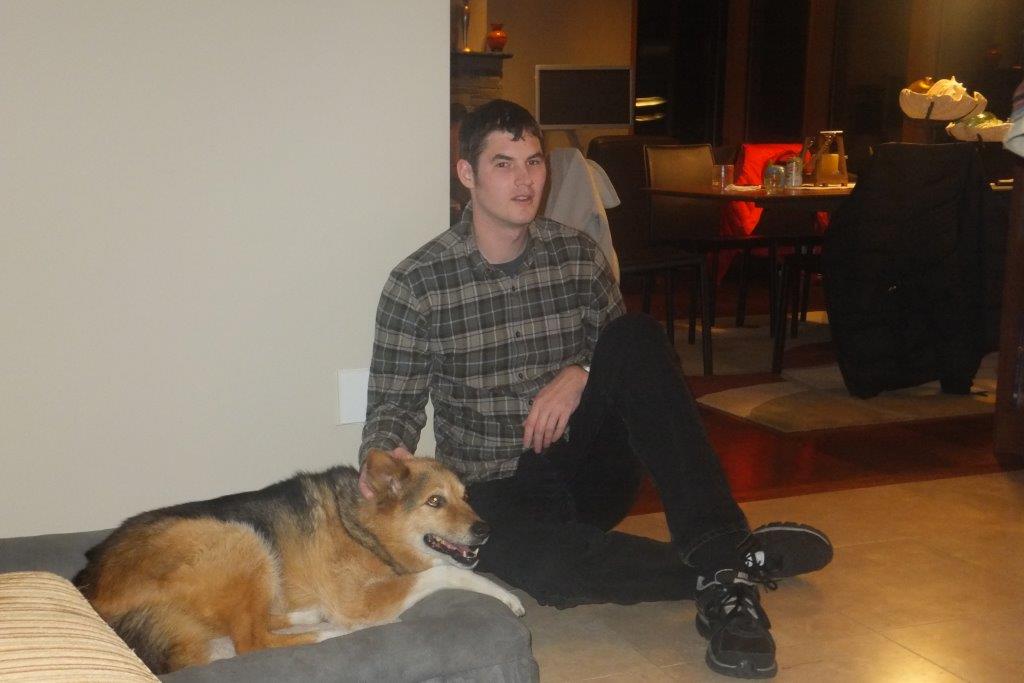 Odie stayed with my Dad while I went through college. I couldn't take care of him on my own, and I think that will always bother me. Leaving him felt like a betrayal. He'd been there for me for all those years and I left him behind for convenience. At first, I came back over the summers to work and I would spend a lot of time with him. Over the years that faded, as I got more involved with comedy and had less time for anything else. He became sulky when I came to visit. He'd turn his back to me and ignore me for about an hour until finally breaking and coming over to play. But he'd always look hurt when he saw my bags. I've seen video of dogs trying to stop their owners from leaving, but he wouldn't do that. As soon as he saw any luggage he would immediately put his head down and lope off to a corner of the house to be alone. That always seemed so much worse.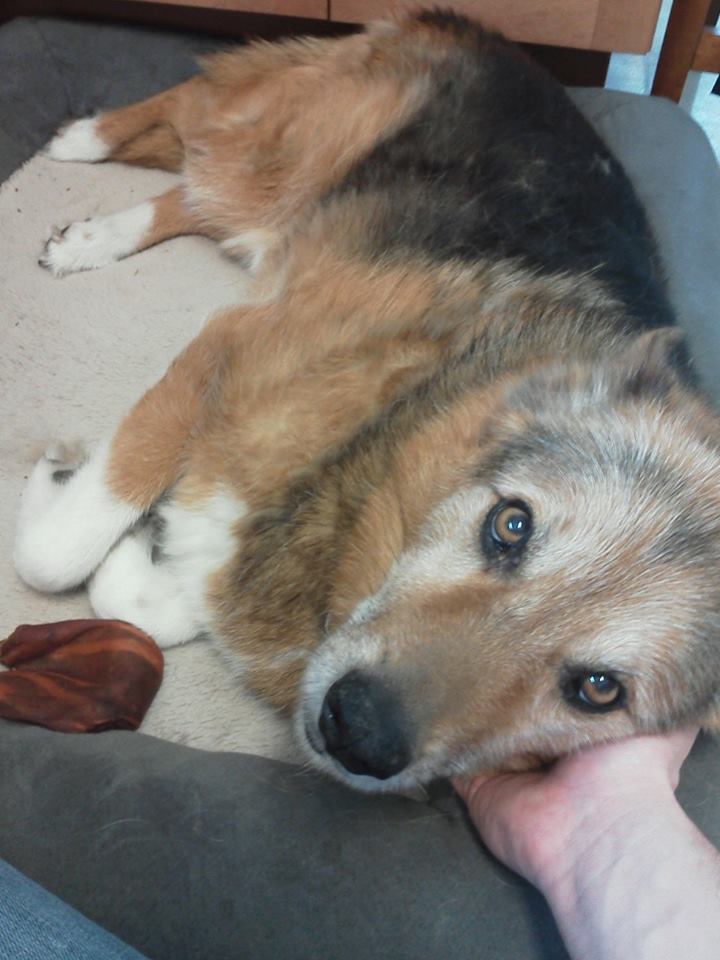 ​ Leaving Odie there was the right thing to do, I think. My Dad liked having him around and would take him to work every day. On the occasions that I brought Odie with me to college, he really didn't seem to enjoy himself. But I still feel guilty about it today.

Somehow 17 years went by. In the last couple, he stopped sulking when I came to visit, and just seemed to want the time with me. I wonder if he had begun to understand that he might not have as much time left, that he might as well get it while he could. My dad started to end every phone conversation on how old Odie was getting, to the point I wrote a joke about it. [The only version of this joke I could find was from the St. Louis Helium in July 2016. I rarely tried to pull it off in comedy clubs because it's a joke about my Dad having a heart attack and my dog needing to be euthanized, but I think it's a good example of writing a joke to help you cope.]
Odie didn't move around so well at the end. He had some hip dysplasia mixed with the old knee injury. He didn't eat much and slept a lot. When the time finally came my dad offered over and over again to take care of it, but I knew I had to be there. Odie wouldn't admit it if he could, but I meant the world to that dog. You could see it in his eyes, so I had to see him out.

It would've been tougher if he hadn't been so old, that was a mercy on his part. I thought he was ready. I did my best to keep it together. We got into the vet's office, Odie was nervous. He could tell something was going down. I did my best to calm him down, to keep his attention. The vet administered the anesthetic. If you've ever been around a loved one as they're passing, you know there is a strange urgency to take in as much of them as you can. I'd experienced that before when my grandmother passed, I got kind of a hospice mania. Even though he wasn't a human family member, that's how I felt with Odie. Look in his eyes. Look at the way he looks at me. Know that. I remember thinking that smell was the strongest sense tied to memory so I wrapped my arms around him and smelled him. He always smelled clean. He hated baths and never really got dirty, so he always had the same, characteristic smell.

I was glad I was there because the room was small and I don't think my dad could have knelt by Odie like I did. I made sure I was the last thing he saw as he went unconscious. The Vet administered the drugs and I kept my head turned away from them. I guess I was embarrassed. I wanted to explain that this wasn't like every other euthanasia, but then I realized it probably was, and felt like a cliché.

The Vet finished administering the drug. Odie was still breathing. They explained that they needed to use a second dose, as he was really holding on. "What is he holding on for?" I wondered. "He's 17 years old. All he does is nap all day, he barely eats…" and then I had a devastating thought.

Maybe he just wants more time with me. Maybe he perks up every time I come to visit, and that's why I thought my Dad was being overdramatic about how old he was getting. Odie acted like a puppy when I was around him the same as I acted like a kid when I was around him. This was cruelty masquerading as decency. At the time of his death I gave him something to live for, the only thing he had left to live for. More time with his human.

I know now I'm being hard on myself, but at the time the thought was devastating. The Vet shot another dose into him and that was enough. I took an extra minute or two to take it all in. They say seeing the body can help you cope with death, and I think it did. Maybe it would have been better for Odie if I had just let my Dad take him. Maybe he wouldn't have fought so hard. But it helped me. I can't say his dying wish would've been helping his self-centered owner cope, but who knows right?

This may all seem silly to someone with a different view on dogs. I've heard the phrase, "It's just a dog," one hundred times in my life and I disagreed every time.

Dogs evolved alongside humans long enough to develop a sense for a lot of the emotions that we go through. Any empathetic person that has owned a dog knows that there is a deep psychological connection that happens between people and dogs. It's more accessible than the same connection between humans, because it's simpler. With people there are a lot of connectivity issues. There are conversational subtexts, insecurities, projection and further bullshit. You're trained to keep your guard up. But with a dog, that connection can be about as pure as it gets. The dog wants to love you, you want to love the dog.


I think there are two tragedies to a person's death. The first is the tragedy of all the time and experiences that they will no longer be able to share, and the people they will leave behind. Which is very real, but also kind of silly because it feels like you're just projecting your own FOMO onto them.

The second tragedy is a tragedy of self. It took me a long time to figure out what this feeling was. When someone passes, I think a large part of that feeling of loss is that you've lost a part of yourself with them. When you've really connected with a person, there's a part of yourself that exists solely within them. They have memories, experiences, and a version of you that exists between the two of you.

I've heard a lot of people talk about how hard it is to lose a dog. You'd think that losing a person would always be harder, and I've definitely felt guilty about mourning a pet more than a person before. When a person dies, you primarily feel the loss of them. When a dog dies, I think people are surprised how much it affects them because they didn't realize how much of themselves had been invested in that dog. I think that since dogs are so much more emotionally accessible, and connecting with them is easier, we don't realize how much of ourselves go into our dogs. Not to mention that, with certain exemptions, most of your time spent with a dog is going to be positive. Your dog's personality is built from you, and in this way they're a kind of extension of yourself. A dog can be a little something you put the more vulnerable parts of your soul into for safe keeping. A doggy "horcrux" if you will.

Odie and I were attached at the hip. Even when things were bad, I couldn't look at him without melting into a comforting mush. His personality was an extension of mine. In loving that dog unconditionally, I found a way to love myself. In losing him, I lost an emotional pillar that I didn't even realize had been supporting me. Maybe there were parts of myself that existed in him that I probably couldn't recognize anymore. Childhood dreams, innocence and naivety that have since been eroded. I guess in a way, part of my loss was watching the last remaining tie that I felt with my childhood be severed.

I know that this may seem melodramatic. That's kind of my point. As we grow older we get more accustomed to losing friends, family, and pets. We get so caught up in our lives that we lose parts of ourselves without realizing it. Is it important to realize it? In the bigger scope of things, losing a pet probably isn't a big deal. You make a sad Facebook post, harvest your likes, and move on. But I didn't want to do that. Instead, I ruminated on it for 6 months and wrote this.

I'm also completely willing to believe I'm just a big baby and this is all my brain doing backflips to justify an emotional fragility that I'm uncomfortable with. Fuck it. Goodbye Odie. You did a hell of a good job, and you were a great goddamn dog.